If there's one thing we're passionate about here at SchroderHaus, it's food. We're constantly snacking (we have an overstuffed snack drawer to prove it), and often find ourselves chatting about our latest Whole Foods finds. Heck, that's why we've made a business of supporting clients that make foods we feel good about putting in our bodies, and good about promoting to the world.
We're incredibly honored today to share that we've added a new client to our roster – Fruit Bliss – makers of delicious sun-ripened dried fruit made through an innovative steaming process that infuses it with water. We swear this dried fruit is so much more than grandpop's prunes! It's fruit for the next generation!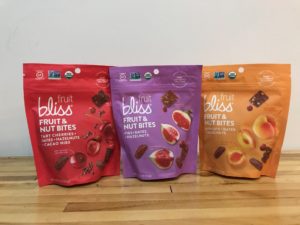 Fruit Bliss invited us to their team specifically to help them promote their new Fruit & Nut Bites. Sometimes the best ideas are simple ideas. Like taking your award-winning fruits and combining them with dates, hazelnuts and cacao nibs to create a convenient, snackable treat you can enjoy on the go at only 100 calories and with no added sugar. Hooray! Bonus, all are USDA organic, gluten-free, Non-GMO project verified, Kosher OU, vegan, and free of preservatives.
Call us addicted because we can't get enough and can't wait to share them with the world. Click on over to Fruit Bliss on Instagram to get your daily fix and to learn more about the other awesome brands we support, check out our client page.